National Assembly Speaker Moses Wetang'ula has urged MPs in the 13th Legislature to take out mortgages immediately, as this is among the privileges they are entitled to.
Speaking on Monday, September 19 at the start of a week-long initiation at the Safari Park Hotel, Wetang'ula called on MPs to take out the home loan early to serve them before the end of their term.
The president told lawmakers to take advantage of the favorable policies they were entitled to, adding that it would also allow them to attend sessions without fail.
National Assembly Ag. Clerk Serah Kioko, Speaker Moses Wetangula and Justice Daniel Musinga attend the Initiation Retreat at Safari Park Hotel, Nairobi on Monday, September 19, 2022
National Assembly
"There is a mortgage plan, do not wait and take it in the third year because it will be very difficult to manage. Take it now, it is the cheapest on the market, with an interest rate between two and three percent.
"Buy yourself a mansion from which you can operate," Wetang'ula said.
Aware of lawmakers' concerns over the Wages and Remuneration Commission's (SRC) decision to cut the majority of their allowances, the president assured them that all privileges would remain intact.
He hinted that he had had discussions with the CBC and promised to speak out fully at the end of the retreat. Commission chair Lynn Mengich was also invited to address the MPS.
"I had a meeting with the CBC and we called them to order about some things. At the end of this convention, I will be able to make some statements about your privileges and other desired facilities so that you were doing your job.
"No one in their right mind is going to interfere with MP car allowances, mileage reimbursement, mortgage and whatever else you've had because it's your right," Wetang said. Ula.
Among the allowances that have been abolished are sitting allowances. On Aug. 28, Mengich explained that some of the severance pay pushes lawmakers' monthly salaries beyond their stipulated constitutional cap.
"Plenaries have increased MPs pay to Kshs 910,000 / Kshs 920,000 per month. This means you would pay an MP equal to one CS, Governor. So the principle of fairness has dictated that we remove plenary sessions to ensure the salary is at the same level.
"We looked at the salary of state officers from two main angles: fairness and fairness. The principle of fairness dictates that those who are at the same level should earn the same salary," she said. declared.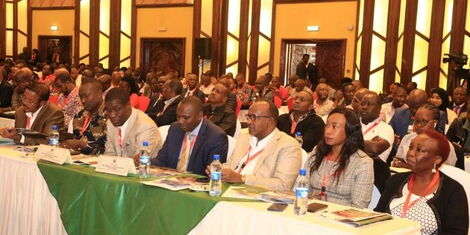 MPs Aden Duale, Kimani Ichung'wah, Opiyo Wandayi, Adan Keynan attending the National Assembly Induction Retreat at Safari Park Hotel, Nairobi on Monday 19 September 2022.
National Assembly